In our ambition to become the leading integrated photonics foundry, we are working hard to increase our production capacity. We are investing in equipment, machines, our people, and our teams, all to increase productivity, improve quality so we can serve our customers even better. We are taking big steps in our journey and yet more steps to follow!
Therefore, we are pro-active recruiting for future talent, entry to managerial level, in the field of Integrated Photonics. For the right talent we always have an open position, and if desired we create one. To be able to make this promise to you, we only consider the top talent in our expertise and technology.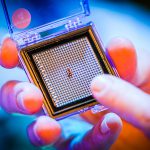 Requirements:
In -depth and recent knowledge about Integrated Photonics engineering and /or wafer production.
Entry levels have a PhD.
For the more senior roles we also consider master's degrees if you bring solid and recent wafer production, chip manufacturing or very close related experience.
You fit a scale-up environment in which conditions are unique and intense.
You are available for a direct contract.
Matching and empathising our company values: Teamwork spirit, Bias for action, Customer obsession, Passion to innovate, Eye for quality, Trust in each other, Ownership, Work smart and Continuous learning.
Available between now and +/- 9 months.
Interested:
If you think you are our top talent, and SMART Photonics is interesting for your next career step, we would like to receive your application and motivation. The motivation includes:
Short explanation about career path so far
What you think you can add (skills, knowledge)
What kind of job and level you prefer
What we can add to your development
As 1 of our company values is Passion to Innovate; Applications via video are appreciated. Email them to our recruiter Ilse de Graaf. ilse.de.graaf@smartphotonics.nl
Apply for this job