SMART Photonics heeft de ambitie om de grootste fotonische chipmaker te worden, we werken hard om onze productie op te hogen. We investeren daarom ook in nieuwe machines, een betere cleanroom en onze mensen. Om op deze manier onze klanten nog beter tot dienst te kunnen zijn.
We zijn grote stappen aan het zetten en er volgen er nog meer. Een van die stappen is het vergroten van ons productieteam en daarom zijn we op zoek naar:
(senior)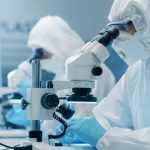 Operators
Als operator kom je in ons operations team, wij werken in 5-ploegen. Samen met jouw team ben je verantwoordelijk voor het productieproces van onze wafers.
Nauwkeurig kunnen en willen werken, oog voor detail hebben en de machines op juiste wijze bedienen zijn hierin erg belangrijk. Je krijgt, na aanname, een goede inwerkperiode en de tijd het vak je eigen te maken. Wij investeren in jou en willen je graag verder ontwikkelen. We zoeken daarom mensen die voor lange tijd bij ons willen blijven werken.
Jouw taken:
Het efficient laten verlopen van het productieprocess in de cleanroom
Onze wafers door het productieproces begeleiden en hierbij scherp opletten dat ze niet beschadigen of vallen.
Het opstarten, instellen en omstellen van de machines en gereedschap
Het schoonhouden van de werkplek en cleanroom
Alle werkzaamheden moeten worden uitgevoerd conform de voorgeschreven procedures en richtlijnen omtrent veiligheid en kwaliteit.
Visuele inspectie van de wafers.
Wij zoeken:
VMBO, MBO of HBO werk en denkniveau in de richting van techniek, process techniek of Vapro B.
Vanaf minimaal 2 jaar werkervaring als operator in een cleanroom.
Flexibel en bereid om in 5-ploegen te werken
Goede kennis van de Nederlandse is een must, de Engelse taal is een plus.
Je werkt nauwkeurig en schoon.
Apply for this job