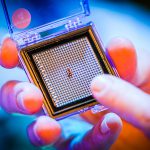 Senior Process Engineer;
In one or more of our techniques: PECVD / Dry Etch / Chlorine etching and/or Plasma.
Our Process Engineering team is taking ownership regarding our internal production processes. it's your responsibility to make sure that every step is carefully designed and stably implemented within operations. Internal alignment, in-depth knowledge about the technology, tools and processes will enable you to become successful and develop yourself alongside our company growth.
Job description
in this position we are open for 2 types of candidates;
1: The specialist; you offer us the in-depth knowledge and have seen multiple aspects in wafer manufacturing. You want to learn and grow but always stay connected to the operational tasks and technical challenge. You might be interested to guide a more junior colleague or participate in complex projects.
2: The future leader; you are an experienced process engineer and you offer us strong experience at least 1 of the techniques mentioned above. Beside learning the technique you have the ambition to grow towards a Lead / managerial position in the future. You are interested and capable in managing people, coach them and guide them towards development and professional growth. You like to present and can handle complex team issues in a fast and structured way.
Daily tasks example:
You are responsible for maintaining, improving, and co-developing the processes to produce photonic components.
Define and execute projects related to capacity expansion and process stability and performance.
Support process development and roadmap activities needed for future InP technology.
Participate in various cross functional teams to improve yields, solve process problems, simplify procedures, processes and selection, qualification and release of new tools and processes with improved capacity and capability.
You will oversee and work collaboratively with production and quality personnel assuring orders are completed on time and within specification.
Review product requirements with the manufacturing staff to ensure compatibility of processing methods.
Compile and evaluate test data to determine appropriate limits and variation for process or material specifications.
We are looking for a person who has/is
At least 6 years of experience in a semiconductor environment in the field of process industry.
Advanced knowledge about one or more techniques in : PECVD / Dry Etch / Chlorine etching and/or Plasma.
Proven experience off process improvement and statistical tools like FMEA, SPC, DoE.
Experience supporting a fab operations team, training of fab procedures, root cause analysis and problem resolution.
A natural independent drive to take responsibility/ownership to get the job done, stay focused and be pro-active.
Embodies cooperation and co-creation and has the communication skills to do so.
We offer
Exceptional conditions and opportunities to develop yourself in the field of your interested in a growing scale-up. We truly invest in your career development via training on the job, additional courses and a personal career development plan.
We are an international company (over 50% non-locals), we are open to other cultures, listen to -and respect each other. The diverse team enables growth in all aspects.
the technology is booming and it is a matter of time before we become a mature and established key player.
Apply for this job