SMART Photonics aims to be the trusted, TIER 1 foundry and development partner in integrated photonics. We closely collaborate with our customers to create innovative products that improve people's lives. The role becomes available because of expansion of the process and equipment engineering team.
Job description   
SMART photonics is currently in a ramp-up stage, we are scaling up our production plant and investing in new tools and equipment. It will be your responsibility to make sure equipment and tooling is available in this stage, and to follow our roadmap towards high volume manufacturing. Our production environment offers a wide variety of tooling, from a plasma deposition tool to our Pas 5500 and from a coat and developer track to a wet or dry etch tools
.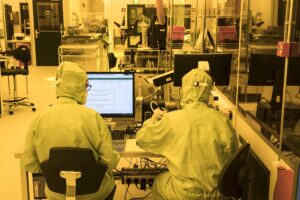 In your daily job:
Leading multi-disciplinary teams to secure and maintain a state-of-the-art cleanroom with all the needed equipment and tools.
Prepare for future growth and factory expansion.
Building infrastructure by setting up preventive maintenance procedures.
Share best known practices and train / facilitate the end-users of the tools and equipment.
Aligns with internal stakeholders such as Process Engineers, Operators, Technicians, R&D Engineers and Technical Project leaders.
Collaborate, negotiate with and guide external partners such as vendors, service providers and other equipment related parties.
Strategical decision taking, priority setting, report to management, time path  and pushing towards release / delivery.
Possible growth towards the formal technical lead of the complete equipment team.
Job responsibilities and qualifications
5+ years of experience as an equipment engineer in a semiconductor environment.
Experience within a cleanroom and cleanroom related equipment is a must have.
Experience with new tool purchase and installation projects as well as FAT and SAT.
Natural Leader, leading by example and willing to support the team.
Strong communicator and able to participate in management meetings and decision making.
A creative and eager colleague who is truly is passionate about the role and wants to solve issues à the difficult takes time the impossible a little longer.
We offer
A challenging position within a growing and innovative company
The unique chance to significant contribute to the growth of SMART Photonics and make a lasting impact in our cleanroom and factory.
Positive work attitude and a divers and motivated team
An inspiring location on the High-Tech Campus of Eindhoven
Investment in your future growth and career development.
Apply for this job