DAY OF PHOTONICS (21st of October) is an annual event that promotes "photonics" towards the general public. For this day we want to give you the opportunity to get a sneak peek inside our indium-phosphide photonics foundry. And ask us all the questions you might have!
– What is a foundry?
– Which applications can benefit the most?
– How important are photonics for future developments?
…
Wednesday 4.11.2020
14:00 – 15:00
Mrs. Nazanin Shafiee
Register
Event is closed for registration.
Please contact us if you have other questions.
Thank you!
About Nazanin Shafiee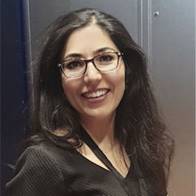 Nazanin is the Business Development Manager at SMART Photonics BV, an InP pure-play foundry based in the Netherlands. She has dedicated her career to technology commercialization and product development. She holds a Master's degree in Materials Chemistry and was part of the first cohort of Science and Technology commercialization program in Beedie School of Business in Vancouver, Canada. She has worked on products and interfaced with clients in a broad range of industries throughout her career in her roles as Process Development and Integration Engineer to Head of Sales and Marketing. The range of industries she has interfaced with includes: medical (MEMS implants and surgical device manufacturing), space, telecom, automotive as well as agriculture.